It's hard to believe that eighty percent of Washington residents live along our 3,000-mile coastline (outer coast, Strait of Juan de Fuca, San Juan Islands, and Puget Sound) as we often take for granted the dependence we have on our healthy, productive marine and watershed ecosystems. For nearly 50 years, Washington Sea Grant has helped people understand, conserve and prosper from our state's rich marine resources.
If you've been paying attention to the Trump Administration's proposed Federal budget for FY 2018, you've likely been pretty concerned about the massive cuts to some of our most important agencies in ocean and coastal conservation such as the EPA and NOAA. If you took the time to actually read the 53 page document, you might've felt like you'd been poked in the eye after seeing that it "zeroes out over $250 million in targeted National Oceanic and Atmospheric Administration (NOAA) grants and programs supporting coastal and marine management, research, and education - including Sea Grant, which primarily benefit industry and State and local stakeholders. These programs are a lower priority than core functions maintained in the Budget such as surveys, charting, and fisheries management." Washington Sea Grant Director Penny Dalton also pointed out in her recent message that "earlier this month the situation became even more serious when the White House proposed to cut $30 million in program funding from this year's budget—which would end the Sea Grant program almost immediately."
Before we go down the rabbit hole and get lost in agency budgets, it's important to remind ourselves of a few things...the president proposes a budget but it's Congress that actually writes and approves the budget and appropriates money. More on this later, and the important role that you can play as an ocean advocate...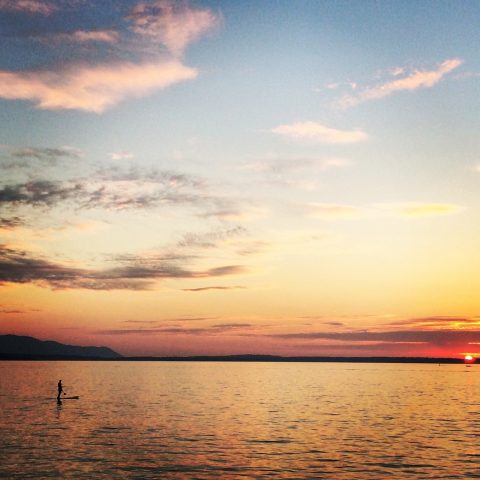 Washington Sea Grant & Our Coastal Quality of Life
It's important to have a better understanding of all the good things that Washington Sea Grant does as a public benefit in support of our coastal quality of life here in Washington. Take a closer look at some of the accomplishments that Washington Sea Grant has done over the past several years at the bullets and links below.
Pumpout Washington,

a WSG partnership with Washington State Parks, prevents dumping of raw sewage from boats and keeps Washington waters clean

for recreation, shellfish and wildlife. In 2016 boaters set a new state record, diverting 10 million gallons of sewage to shoreside pumpout stations.
The WSG-coordinated SoundToxins program combines citizen science monitoring with cutting- edge technological innovation to protect shellfish consumers from potentially lethal algal blooms and to prevent possible shellfish harvesting closures.
Read More: Washington-Sea-Grant-Fact-Sheet
31,853 K-12 students engaged in beach walks, school events, festivals and informal education programs.
1,737 fishermen trained in marine safety, rescue, first aid, weather and marine technology, saving lives and making fishing more efficient.
Read more: Washington Sea Grant By The Numbers
A Closer Look at a Few of the Unsung Heroes
More than just a recipient of your federal tax dollars, the staff at Washington Sea Grant are real people just like you and me, doing good work around the state in our local communities, with families to feed. Here are a couple of profiles of two of the staff that we work closely with.
Meg Chadsey, Ocean Acidification Specialist: Meg feels fortunate that her dual role as a Washington Sea Grant specialist and Pacific Marine Environmental Laboratory (PMEL) liaison allows her to work on a variety of ocean acidification (OA)-related projects with diverse partners. Her favorite projects are those that connect the world of scientific research with the information needs of stakeholders and the public.
Meg produces OA outreach materials for a broad range of audiences, from K-12 students to the scientific community. She collaborates with educators to develop course and field work that is accurate, engaging and relevant. She has participated in state efforts to address OA (Governor Chris Gregoire's Blue Ribbon Panel on Ocean Acidification and the ongoing work of the Marine Resource Advisory Council) and is part of a scientific team that is testing a novel OA-mitigation strategy in Puget Sound. Meg enjoys public speaking, and often accepts invitations to give presentations or teach classes about OA.
Ian Miller, Coastal Hazards Specialist, Olympic Peninsula: A skilled science communicator and media spokesperson as well as a trained scientist, Dr. Ian Miller is Washington Sea Grant's coastal hazards specialist, working out of Peninsula College in Port Angeles and the University of Washington's Olympic Natural Resources Center in Forks. Ian works with coastal communities and public agencies on the Olympic Peninsula to strengthen their ability to plan for and manage coastal hazards, including tsunamis, chronic erosion, coastal flooding and other hazards associated with climate change. He brings a suite of tools to this challenge, including outreach, coordination, applied research, a synthesis of existing science and assistance in securing whatever funding and additional expertise communities may need.
Ian led the development of a comprehensive climate change assessment for the Olympic National Marine Sanctuary, the first such assessment in the national marine sanctuary system. He also helped the Jamestown S'Klallam Tribe draft its Climate Vulnerability Assessment and Adaptation Plan. He has advised the Puget Sound Pilots and U.S. Coast Guard Air Station/Sector Field Office Port Angeles, both based on Ediz Hook, on tsunami hazards and evacuation strategies.
Before joining Washington Sea Grant, Ian served as the education director of the Olympic Park Institute and as Washington field coordinator for the nonprofit Surfrider Foundation.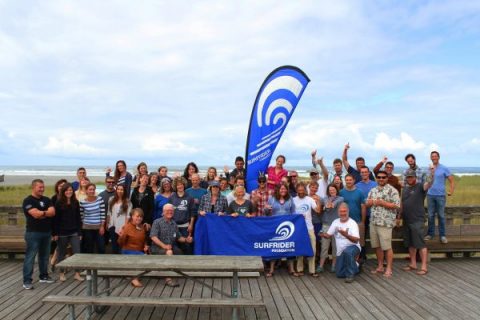 Making YOUR Voice Heard in Defense of Washington Sea Grant
As I mentioned before, there is an important role that we can play as citizens and ocean advocates, Congress represents us as their constituents, and they need to hear from you, now more than ever. There are a group of Senators rallying in defense of Sea Grant, Oregon Senator Jeff Merkley summed it up best when he said "at a time when coastal ecosystems and infrastructure are under unique stress from a changing climate, it would be a terrible idea to cut back on support that will help our communities adapt and continue to thrive and create jobs." Even if your Rep and Senators are in support of Sea Grant, they need to hear from you. Let's make our voices heard and make sure Sea Grant is here to stay! Here are four simple steps you can take to help save this important program:
Here are a few talking points you can use:
I'm calling today to let [elected official] know that I oppose the president's proposed cuts to the National Oceanic and Atmospheric Administration (NOAA), specifically the elimination of the Sea Grant program.
Sea Grant directly contributes to job creation and economic development, the core functions of the Department of Commerce
Federal funding of Sea Grant goes a long way. Each dollar Sea Grant receives in federal funds is multiplied threefold through strategic partnerships with academic and grant funders.
I personally value [name Sea Grant program or service that is important to you.]. (Click here for more information about Washington Sea Grant's workshops, trainings and programs in your area.) Again, I urge [elected official] to maintain funding for Sea Grant in NOAA's 2017 and 2018 budgets. Thank you for your time.