Hello coastal protectors! I'm Liz, the new Washington
Regional Manager for Surfrider Foundation. Some of you might know me from my previous
role as the Volunteer Coordinator for the Olympia Capitol Chapter, where I've
helped organize beach cleanups, managed our Blue Water Task Force program, and
worked to grow our membership. I'm stoked for this opportunity to support all
our chapters in their amazing work, and I look forward to getting to know you
all! Below is a little (okay, maybe a lot) about me.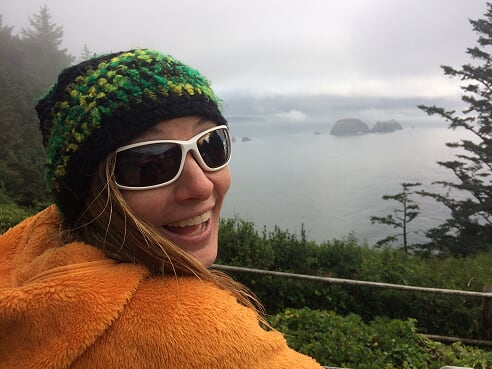 I grew up in Florida, a semi-feral swamp critter living on the St. Johns (Welaka) River, kayaking, windsurfing, snorkeling with manatees, and (narrowly) avoiding being eaten by alligators. My love of animals led me to earn a B.S. in Zoology with a minor in Wildlife Ecology & Conservation from the University of Florida (UF), where I got to study everything from bees and bats to bears and gators.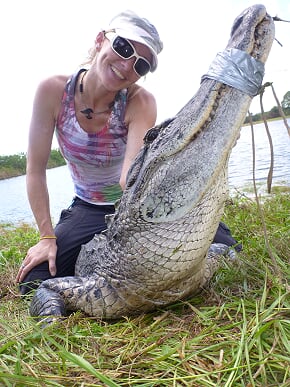 I studied abroad in the Turks & Caicos, and was invited back to continue conducting fisheries research, tagging and releasing bonefish and barracuda. After graduating, I moved to the Florida Keys and worked at The Turtle Hospital, rescuing and rehabilitating sick and injured sea turtles. I left that position to help teach a wildlife conservation-focused semester abroad program for UF in Namibia, Africa, after which I stayed to backpack around southern Africa for the remainder of the year. I ended up in Coffee Bay, where I (finally) learned to surf, living in a tent and leading eco-tours in exchange for a campsite.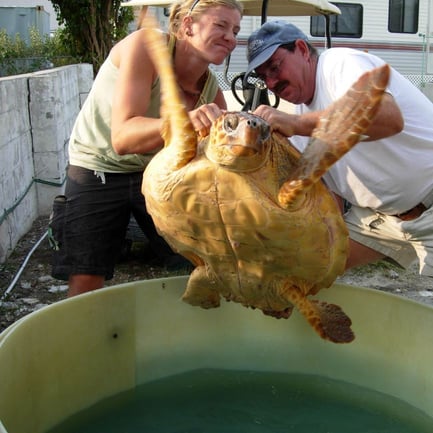 Upon returning home, I worked for the SEAKEYS research program, maintaining a network of oceanographic sensors and buoys between Biscayne Bay and the Dry Tortugas, before getting a job as a fisheries biologist for the Florida Fish and Wildlife Conservation Commission (FWC). I spent the next five years working directly with commercial fishermen, collecting data that informed long-term management decisions.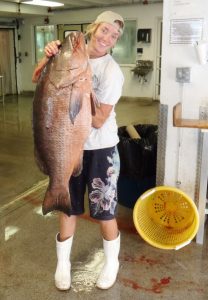 I really value science communication and love serving as an educator, so I would always volunteer for agency outreach events and spent my vacations teaching marine science and water quality for Duke University's Talent Identification Program (TIP). I spent my free time fishing and freediving, and managed to train up to a five-minute breath hold and a 100-foot dive.
Having spent much of my life on and under the water, I've
developed a profound respect and appreciation for our oceans, despite having
been stung by man-o-wars, stabbed by lionfish, and attacked by a shark. I
realized I wanted to do more, so I left Margaritaville for the Cold Dark North
(or so I thought of it at the time. Little did I know how much colder and
darker it could get!). I spent the next three years at the University of Maryland,
earning an M.S. in Sustainable Development & Conservation Biology, along
with certificates in teaching and GIS (mapping).
During my graduate program, I focused on coastal ecosystems, studying coastal blue carbon (the carbon stored in marine environments) and analyzing how salt marshes respond to sea level rise by moving upland. I worked with some amazing people at the University of Belize's Environmental Research Institute, conducting coral, mangrove, and seagrass surveys from the Calabash Caye field station. I also studied abroad in Costa Rica, where I learned a ton of science and that bullet ants are aptly named.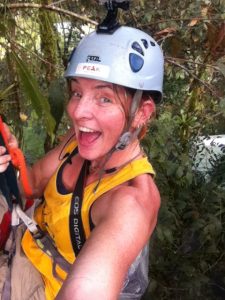 In my spare time, I led overnight tours at the Smithsonian Zoo and volunteered at the National Museum of Natural History as a docent in the Ocean Hall. But my most valuable experience at UMD was teaching sustainability to undergraduates. It was here that I really got to dive deep into all things sustainable, developing lectures on plastic pollution, leading waste audits, and helping students on a range of projects, from writing grants to installing green infrastructure to reducing plastic waste on campus. I suspect I learned more as a teacher than I did as a student.
After grad school my partner and I got hitched and moved out west, first to Hood River, then across the Columbia River to White Salmon, and more recently to Olympia. I've spent the last few years working on salmon and stream research for various agencies and teaching marine science to K-12 students for the Puget Sound Estuarium (a local non-profit) when I can. In my free time I like to hike, bike, run on trails, run after frisbees (while in costume), run around as a T-Rex, play the guitar and sing when nobody's watching, hang out in the sunshine with my partner and my chickens, and tell myself that the water's not too cold, I'll get in any day now….aaaaany day now….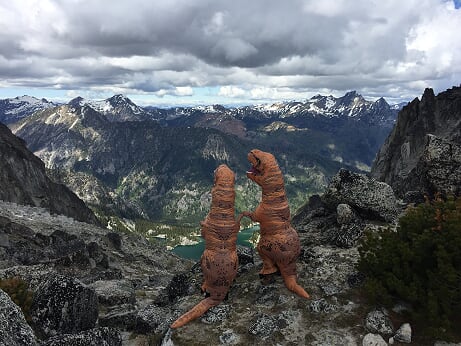 I got involved with the local Surfrider chapter here in 2018 and really love the people I work with and the work we do, so I couldn't be more thrilled to level up my involvement as the new Regional Manager! Now more than ever we need an active, united community to break free from plastics, push for action on climate change, demand clean water and coastal access, and move towards a healthy future together.
I'm ready to get to work!