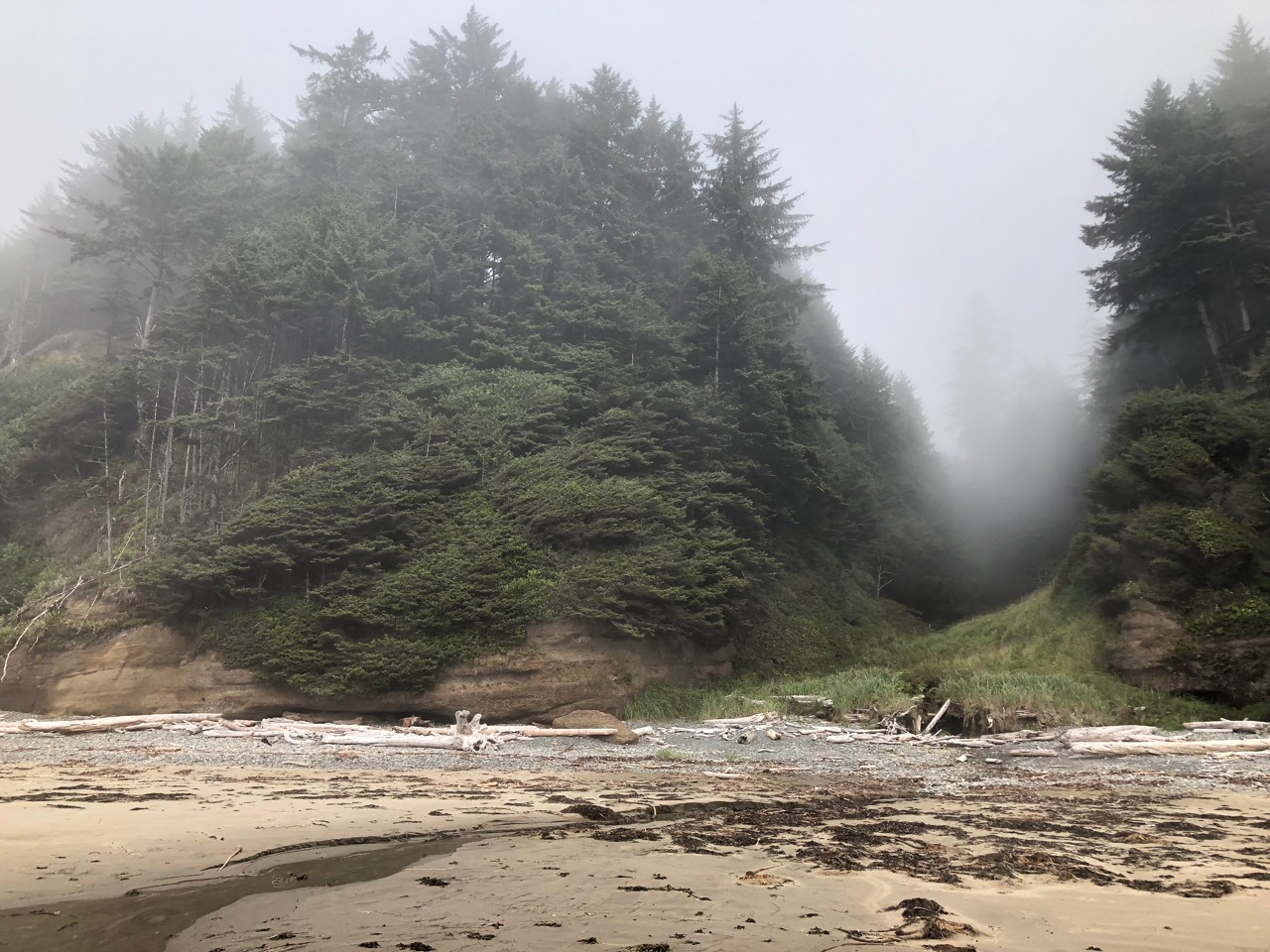 09.10.18
Washington Attorney General Leads 'Save Our Coast' Hike in Opposition to Offshore Drilling
By Gus Gates
Would you believe it if I told you that a sitting Supreme Court justice led a 20 mile hike along Washington's wilderness coast with 70+ conservationists to protest against a proposed coastal highway that would've forever spoiled this special place? Well, it's true, and it happened in 1958 on a hike that was led by legendary Washingtonian, public lands advocate, the honorable Justice William O. Douglas. Check out some of the classic video footage.
Clearly, Douglas was way ahead of his time, also leading protest hikes in DC and Alaska, among other areas. He went on to be the longest serving Supreme Court justice in American history. To this day, the Wilderness Coast section of the Olympic National Park is the longest stretch of undeveloped coastline in the lower 48, thanks in part to his advocacy efforts to help protect it.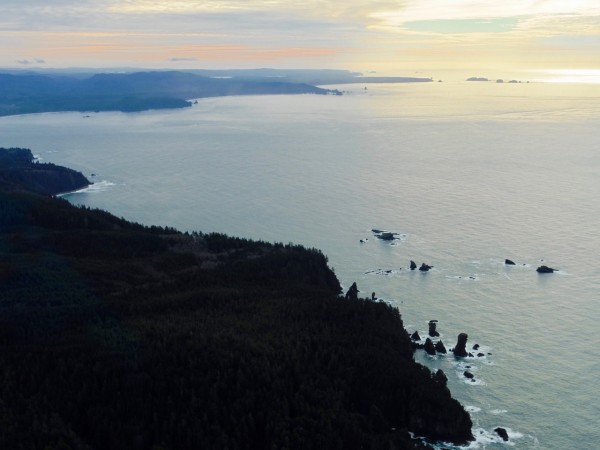 Not only is the coastline worthy of protection, but so are the adjacent offshore waters, which were designated as the Olympic Coast National Marine Sanctuary in 1994. Home to orca, sea otters, rockfish, deep sea corals, and seabirds, this area encompassing 3,188 square miles (extending between 25-40 miles offshore) is one of our nation's most treasured and productive marine areas.
"The coast is never saved. It is always being saved." -Peter Douglas, former Director, California Coastal Commission
Fast forward to January of this year when the Trump Administration and Secretary of the Interior Ryan Zinke proposed opening up the Washington coast to offshore oil and gas drilling, along with 90% of our nation's coastline. Arguably, this is the biggest threat to the health Olympic Coast, and the most blatant assault on America's ocean and coast in our nation's history.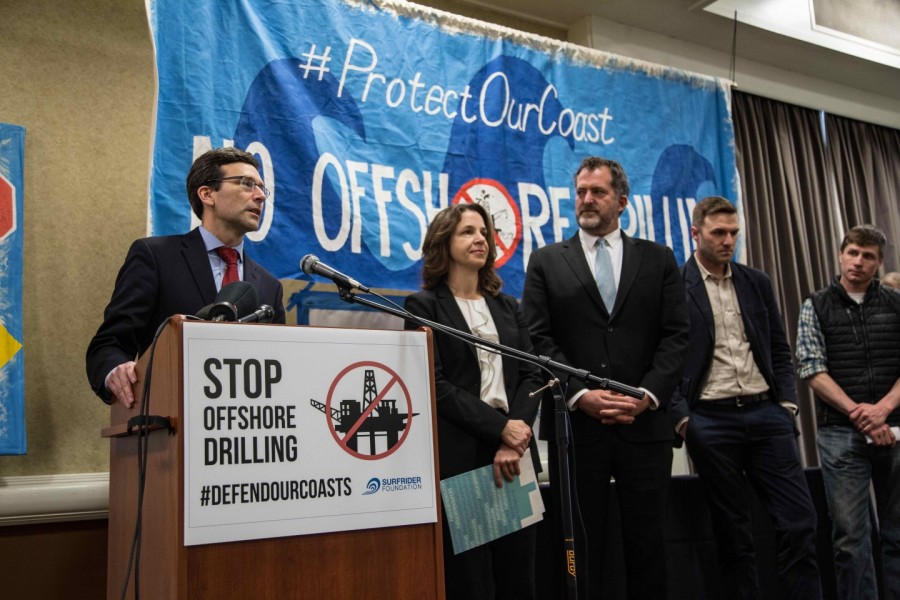 When the time came for the Bureau of Ocean Energy Management to visit Washington state as part of their "Listening Sessions," Washington's statewide elected leaders spoke loud and clear that this proposal was inconsistent with Washington's coastal values and quality of life, and any exploration or drilling would result in severe adverse impacts to our existing coastal economy and jobs. Washington Attorney General Bob Ferguson was crystal clear in stating, "If the Department of Interior seeks to put Washington's coastal communities at risk, my office will initiate litigation against the Department to protect our coast." In doing so he drew a line in the sand and announced plans for a protest hike along the wilderness coast, mirroring Justice Douglas' original route.
On August 19th, exactly 60 years to the day that Justice Douglas hiked along the same stretch of coast, nearly 50 people gathered on a foggy morning at Rialto Beach to set out on foot with a call to Save Our Coast! Attorney General Bob Ferguson, a fourth generation Washingtonian, gathered the crew and spoke of our coastal legacy as Washingtonian's. He was joined by Fawn Sharp, President of the nearby Quinault Indian Nation who talked about how this special place is sacred to the culture of the indigenous communities of nearby coastal treaty tribes, and the spiritual importance of it's well being. Congressman Derek Kilmer (WA 6th Congressional District, D) wished the hikers well and spoke about the importance of doing something that is hard, and speaking up for what is right.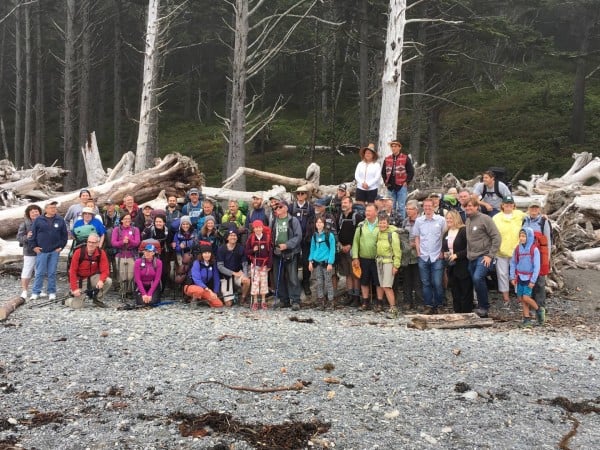 The hikers set out to the North, around rocky headlands, scrambling over boulders some as big as small cars, and up the cobble beaches with mounds of seaweed and kelp. Through the fog, they saw a Bald Eagle perched in a massive old growth Sitka Spruce tree, watching over them and waiting for the tide to recede for some tide pool foraging. The group included staff from the Attorney General's office, as well as his family. There were historians, a poet, conservation organization staffers, and a few lawyers. For many this trip was a major "bucket list" hike, as this was their first time hiking along this stretch of coast. The group spent their first night of the 3 day trek enshrouded in fog at a beach called Cedar Creek, gathering around the fireless fire pit (burn ban in effect), telling stories and cooking over camp stoves.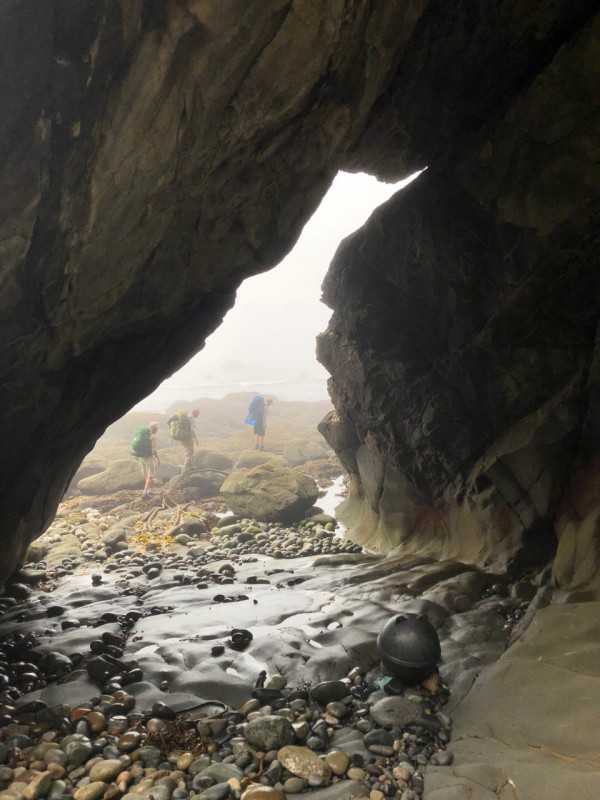 The second day we awoke to the persistent fog, and joined in a circle for a poetry reading of the legend of the Northern Lights from the nearby Makah Tribe. Continuing the hike, we started off with a dicey jaunt around the headland through some tidepools. Knowing the tides along this section of coast is of critical importance. Several hikers stopped for lunch at a rocky cove with some scattered offshore rocks and were treated by a visit from a sea otter grooming its fur in efforts to keep warm from the frigid 52 degree water. For many, this was the first time they had seen a sea otter in the wild! Extirpated from Washington waters by fur trappers around 1900, the recovery of the Northern Sea Otter is a true success story of a keystone species following reintroduction efforts to the Olympic Coast in the mid 80's.
After over 8 miles of trudging up the beaches and navigating the rocky sections, we made it to our destination for the 2nd night at a place called Sand Point. This long, sandy beach offered some good protection from the gentle northerly breeze, as well as a prominent point that you could climb for an elevated perspective of the coastline. After setting up our tents, we gathered around and told stories of Justice Douglas, some of his great hikes, and legal opinions. Finally, the fog broke and the sun came out, allowing some of us to hike up the knowl on the point to look up and down the coast and offshore beyond the kelp beds and rocky reef. For those that took advantage of the view, we were offered a passing glimpse of several Humpback Whales making their way to the south, as well as several sea otters foraging in the kelp bed. As the sun set, the sun took on a hazy orange color, enhanced by the smoke of nearly 600 wildfires burning to the North in British Columbia.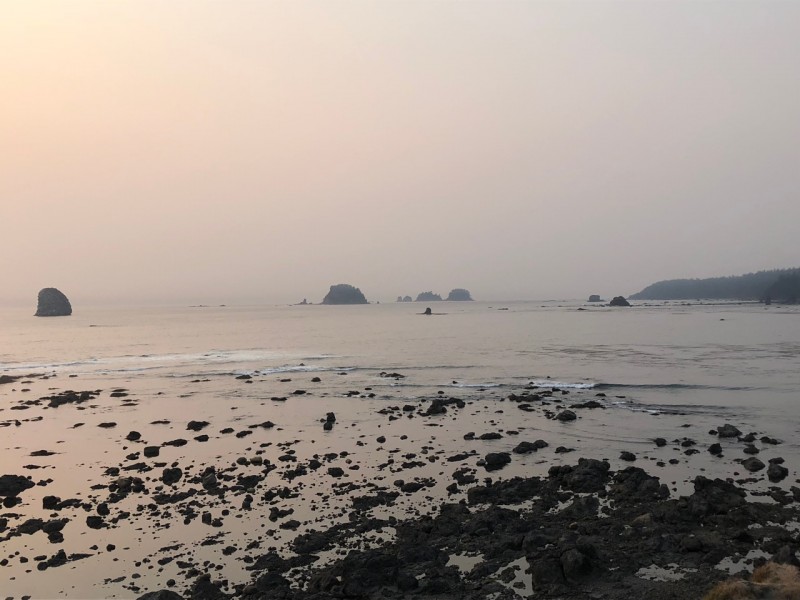 At the end of the day, the short glimpse of sun, the stunning beauty of our wild Washington coast, and the visits from our marine friends served as a reminder of how special this section of coast truly is, and why it deserves to be protected from the threat of offshore drilling. These visions invigorated me in our collective efforts for why we must continue to stand up, speak out, and advocate for the protection of these special places in the face of those who would seek profits from it's short term exploitation. Whether it's contacting your congressional US Rep and Senators, signing the business opposition letter, or working with your local government(s) to pass a resolution against offshore drilling...we all must make our voices heard and defend our coasts against the threat of offshore drilling!