We made it through another wonderful, wet Washington Coastal Cleanup Day! This coastwide event went down on Saturday, April 22, and I can't think of a better way to celebrate Earth Day than to spend it at the beach with like-minded activists and volunteers, all working together to make our beaches a little more beautiful. The collective efforts of our Surfrider volunteers and so many amazing groups, organizations, and agencies resulted in roughly 13,000 lbs of debris getting removed from our beaches in just a few short, soggy hours.

If you're reading this, you are probably aware that cleanups, while fun and inspiring, are not a solution. There's no way we can clean our way out of the plastic pollution crisis. But they are the gateway to activism, playing a critical role in raising awareness, fostering a sense of stewardship, and providing an opportunity to connect with fellow ocean lovers. In addition, we collect data during cleanups that we leverage towards policy solutions aimed at reducing plastic at its source, such as this year's Trifecta Plastics Bill (signed into law April 20th), 2021's single use foam ban, and the plastic bag ban that (finally) went into effect October 2021.

Read on to check out what each of our amazing Washington Chapters accomplished last month!
South Sound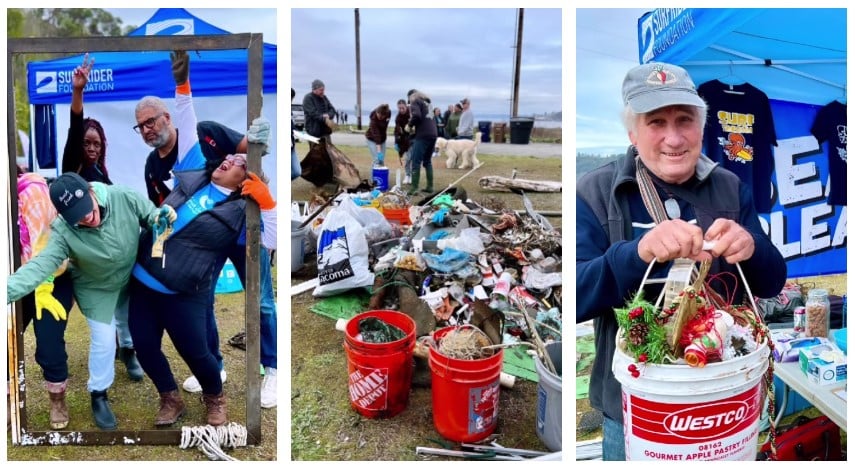 South Sound doubled down and hosted TWO events! They joined the Puyallup Tribe's Earth Day cleanup, where over 120 people showed up and removed a whopping 1480 lbs of trash. Rumor has it that they might have even glimpsed the sun once or twice! In addition to this epic cleanup event, the Sound Sound crew also represented at the Sustainability Expo, educating people about issues that threaten our ocean, waves, and beaches, and what we can do about it. To learn what's next in their monthly cleanup schedule and South Sound Sessions presenter series, check out their upcoming volunteer opportunities.


Olympia
The Oly Chapter hosted a cleanup at their regular spot at Twin Harbors State Park. Over 45 people showed up and removed over 700 lbs of trash, including plastic water bottles, styrofoam, derelict fishing gear, balloons, an oddly large number of flips flops, clothing, a toilet seat, a boat cushion, bottle caps, wood w/nails, a pallet, and a tire. They were joined by the WDFW European Green Crab team. Huge shout out to State Parks and all their support for this event!

Oly's got some more fun events planned, so check out their volunteer page for future opportunities.
Grays Harbor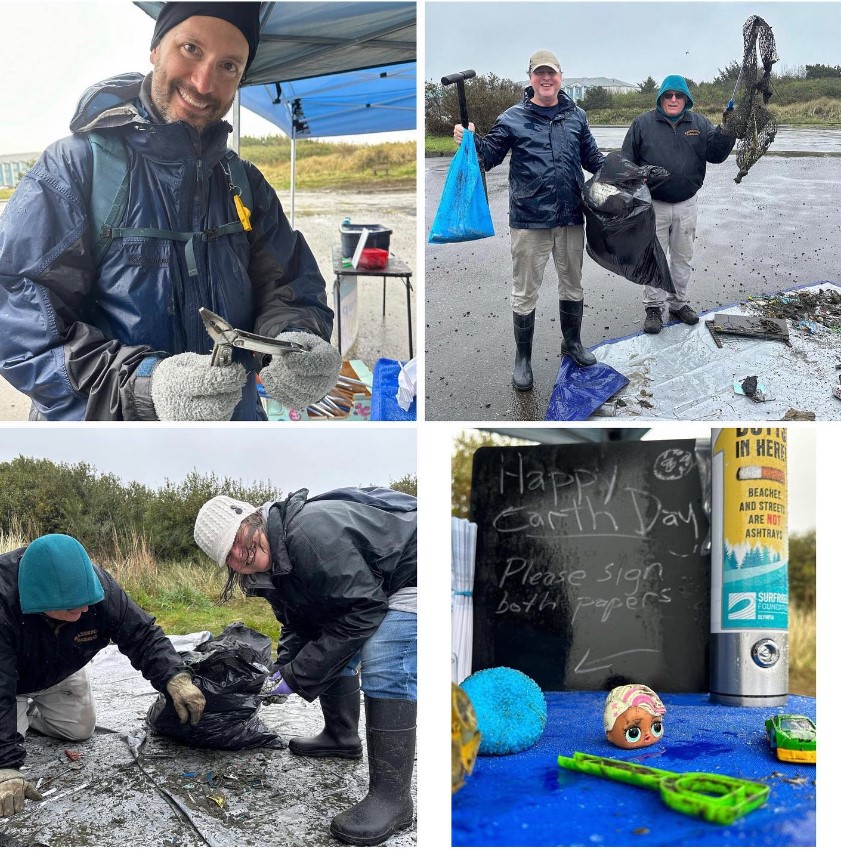 I had the pleasure of joining a dedicated team of plastic pollution warriors in Ocean Shores, along with more amazing State Parks staff, with their cleanup event. We had 70 volunteers show up in the rain. They brought back over 250 lbs of trash, but that was only a subset of the debris that people picked up and dropped off at nearby dumpsters - that total was close to 2300 lbs. Our crew went the extra mile and collected data, sorting and counting what people brought us back from the beach. We scored a like-new multi-tool, a delightful medley of semi-nightmarish toys, and yep, you guessed it - hundreds of pieces of plastic film, fragments, and foam. But a good time was had by all! Rumor has it that they are organizing a Grays Harbor Chapter... (suspenseful music plays)
Northwest Straits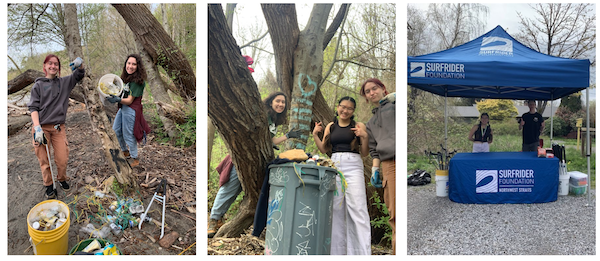 Our Bellingham crew hosted a small but mighty cleanup at Locust Beach, with only five volunteers that still somehow managed to remove over 300 lbs of trash! Huge shout out to Jann, the new Volunteer Coordinator for the chapter, and Grace, the BWTF Coordinator, for making it happen! Keep an eye on upcoming NWS Chapter events here.
Seattle
The Seattle team hosted their first Clean & Cruise of the year, with over 20 volunteers removing 87 lbs of debris from Gas Works. Afterwards, they enjoyed a well-deserved paddle along a much cleaner coastline. Seattle's got some great events in the works - keep an eye on their volunteer page for future opportunities
Olympic Peninsula

The OPC had the good fortune to spend their Earth Day cleanup at Hobuck, feeding the 38+ volunteers that showed up despite the rain. They were joined by Coastsavers and Net Your Problem, who sorted the debris so that much of it could be diverted from the landfill and recycled into other products. The debris, combined with a bunch of trash hiked out of Shi Shi by the Mountaineers, totaled over 1000 lbs! OPC has an epic International Surfing Day event planned next month, so keep an eye on their upcoming volunteer opportunities here!
Coastsavers
Huge shout out to our partners and allies at Washington Coastsavers for coordinating over 15 cleanups along the outer coasts and Strait of Juan de Fuca! Their collective efforts removed over 11,000 lbs of debris, 2,286 lbs of which will be recycled as part of a pilot project investigating the feasibility of recycling marine debris.